The History of News Radio 590 KLBJ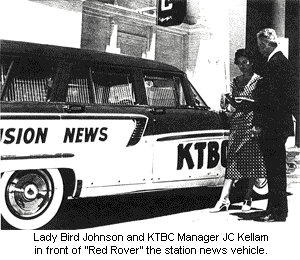 Austin radio listeners first heard the call letters "KTBC" (KLBJ AM's former call letters) on July 2nd, 1939.
In December 1942, a buyer, armed with limited capital, a dream, a journalism degree from the University of Texas, and no broadcasting experience, became the new licensee – Lady Bird Johnson.
The struggling, exuberant KTBC was housed in modest second-story headquarters on Eighth Street, above Nixon-Clay Business College, across from the Courthouse. It moved to the Brown Building, a short move, Eighth and Colorado, in 1943. It was then moved to Tenth and Brazos in 1960 to accommodate the growing needs of the radio and now, television stations. The station moved to its current location on North I-35 in 1986.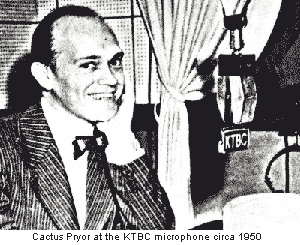 On the 6th of June, 1944 Richard "Cactus" Pryor was hired. Cactus broadcasted local news, played records, entertained, and took his fair share of tidying up the studios.
On August 1, 1966 – The tragedy of "The Shooting from the U.T. Tower." A lone gunman, with an arsenal of weapons, began sniping at unwary students and teachers on the college campus. For one day in history, KTBC broadcast the news from its studios, and from the news vehicle "Red Rover." The English-speaking world's attention was riveted on Austin, Texas, as a young KTBC reporter, Neal Spelce, relayed the news of the shootings of over thirty innocent people. Crouching by the Red Rover news vehicle, Spelce warned KTBC's listeners in agonized words, "Do not go near the U.T. Tower. There is a sniper at the tower, shooting at will…" In KTBC studios, Paul Bolton, News Director, was at his post. As the list of victims was read to Bolton, he said, almost as matter of fact, "Read that list again, please. I think you have my grandson on that list." Tragically, he was correct. Yet Paul Bolton stayed on the story until the last details were broadcast – including the assault on the U.T. Tower, and the fatal shooting of the unbalanced, ex-marine Charles Whitman. KTBC received a Peabody award.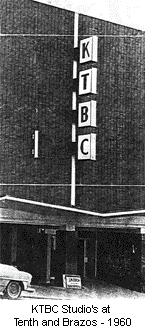 On July 15th 1973, the flag was lowered on the call letters, KTBC, and raised with the new letters, KLBJ. This was perhaps, one of the few times that the presence of the President of the United States, Lyndon Baines Johnson, was felt by the radio station's staff – or its audience.
In 1981 KLBJ implemented the "News-Talk" format, which is still in use today.
Over the years many famous names have worked at KLBJ including Nellie Connally, Harfield Weeden (who later became VP of CBS programming), Pat Adelman, J.C. "Jesse" Kellam, John Connally, Bonner McLane, Jake Pickle, Bill Moyers, and of course Cactus Pryor
KLBJ AM won a Marconi Award for "Station of the Year" (medium market category) from the National Association of Broadcasters in 1994 .
KLBJ AM won a Crystal Award for "Excellence in Community Service" from the National Association of Broadcasts in 1994.